BOOYAH Pad Crasher | 14g | 6.5cm 
The BOOYAH Pad Crasher hollow body frog is tough and packs a punch. It's extremely snag-proof for use on surface vegetation or in heavy cover.
 The BOOYAH Pad Crasher soft plastic hollow body frog features a plastic with just the right consistency to ensure solid, consistent hook-ups while remaining weed- and snag-free. The belly features 'chines' that make 'walking the frog' easy in open water, and it's just the right weight for pulling over slop or through the pads for big bass. Realistic decoration schemes and adjustable spinnerbait-style legs seal the deal for big bass. A drain hole at the tail of the bait keeps it working flawlessly. 
"Chined" belly makes walking the frog easy 
Super-soft collapsable body increases hook-ups
Premium quality double 3/0 Hooks
| | | | | |
| --- | --- | --- | --- | --- |
| Weight  |  Size | Count |  Cranking Depth |  Hooks |
|  1/2 oz |  2 1/2 in |  1 |  Topwater |  3/0 Double |
Perfect frog for snakeheads
Best frog 🐸 for snakehead fishing good results on hooks and cast it's too perfect hook up in one shot.
Quality Frog with Great Hook - Hooked a beautiful monster
Quality Frog with Great Hook. Soft material giving maximum hookup ratio..!! Best for Snakehead Fishing..!
More videos on my channel A4Anglers
Awesome frog
Very nice frog.good action and perfect hook up ratio.must try frog.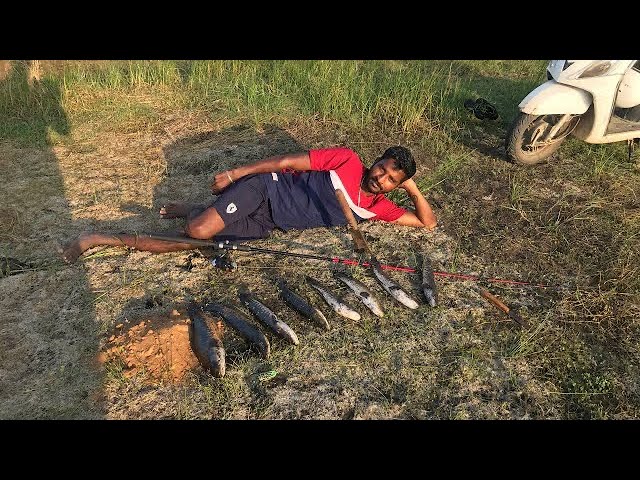 Great Quantity product
I found it same as scum frog launch series
Great action on water and hooks are sharp